Research works
One of the most important activities of the center is to conduct research work being carried out within the framework of competitions held by federal authorities and associations of undertakings and vertically-integrated companies.

Only in the last three years, holds 30 research papers as a result of which has trained more than 100 draft laws and regulations, national standards and standards organizations.

The high degree of innovative component of the research, conducted over the past few years, based on the level of qualification SEC with significant experience in research activities, public service and direct oversight.

Researchers and specialists STC continually improve their skills, in a systematic manner participate in scientific conferences and seminars.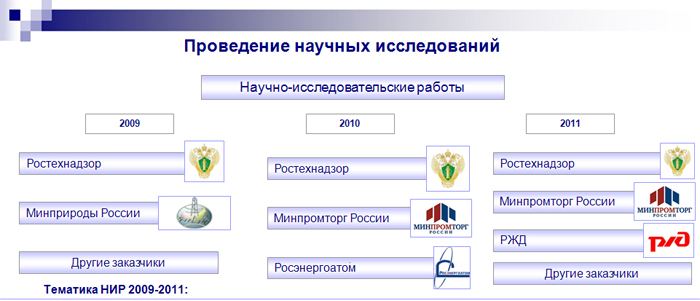 Development of scientific and analytical support to improve public policy in the sphere of industrial safety
Analysis of the enforcement of government regulation in the field of industrial safety, organization and implementation of the State Construction Supervision
Develop training programs, training and tools for organizing and carrying out control and supervision over fire safety in underground facilities and for carrying out blasting operations in the framework of the federal target program "Fire safety in the Russian Federation until 2012"
Perform analysis of regulatory safety coal and oil shale industry and to develop proposals for its improvement
Develop proposals for improving the state regulation in the field of industrial safety
Development of a departmental program "Improvement of oversight in the restructuring of basic industries, improving the environmental, technological and atomic supervision to ensure safety and security of dangerous industrial objects from the threats of man-made, natural character and acts of terrorism"
Recommendations to harmonize the legislation of the Russian Federation, normative legal acts and normative documents in the field of security equipment operating under positive pressure in order to reduce the corruption
Recommendations to harmonize the legislation of the Russian Federation, normative legal acts and normative documents in the security of material handling equipment and processes of its operation in order to reduce the corruption
Comparative analysis of the requirements to the performance of the state to oversee the implementation of fire safety requirements established by the state and to oversee compliance with fire safety requirements for underground facilities
Development of the concept of technical diagnosis with determination of residual life of potentially hazardous equipment in service on the machine-building enterprises
Development and improvement of the regulatory framework for fire safety at nuclear facilities, and underground facilities for blasting operations as part of the federal target program "Fire safety in the Russian Federation until 2012" (II phase)
The methodical study identifying characteristics of hazardous nuclear facilities
Development of proposals for methodological support of the state building supervision and codes of practice required to implement and enforce the requirements of the Federal Law of December 30, 2009 № 384-FL "Technical Regulations on the safety of buildings and structures
Development of proposals for methodological support of reference of the Federal Service for Ecological, Technological and Atomic Supervision in energy conservation and energy efficiency
Development of teaching aids (guidelines) for employees of territorial bodies of the Federal Service for Ecological, Technological and Nuclear Supervision
Development proposals for the formation of complex regulatory oversight in the field of industrial safety, consistent with the requirements of current legislation and regulations on technical regulation
Development of Regulations for reporting in the Federal Service for Ecological, Technological and Nuclear Supervision
Develop a set of methodological and technological solutions that ensure the required level of reliability and safety of industrial engineering equipment depending on the conditions of its use in basic industries
Improving the legal and institutional measures to improve the accuracy of energy associated with the implementation of Russian legislation on energy conservation and energy efficiency improvements
Develop guidelines and a model checker thermal power plants on the organization of safe operation and maintenance of the equipment
Development of methodology for prediction of maintenance of the state functions of the Federal Service for Ecological, Technological and Nuclear Supervision required a staff of federal public servants
Develop training programs, training and tools for organizing and carrying out control and supervision over fire safety at nuclear facilities, underground facilities and during blasting operations "under the federal program
"Fire safety in the Russian Federation until 2012"
Development and improvement of the regulatory framework for fire safety at nuclear facilities, and underground facilities for blasting operations "as part of the federal target program" Fire safety in the Russian Federation until 2012 "
Audit of regulatory and technical documents in the field of power construction and the power supply network
Development of techniques to identify risks of electric shock of personnel in the workplace in subdivisions of branches of JSC "RZD"
Rationale for changes in the FL-116 "On industrial safety of hazardous production facilities" for the registration of hazardous production facilities, which operate permanently installed lifting devices "
Updating the Concept of development and implementation of technical diagnostics in the household electrification and supply of JSC "RZD"
Updating the requirements for conducting emergency response exercises, and engineering and technical workers in the coal and shale mines
Formation of the list of legislative and legal acts of the USSR, RSFSR and the analysis of these acts or their separate provisions for the incorporation into legislation of the Russian Federation
Develop guidelines and a model checker consumers of power plants on the organization of safe operation and maintenance of the equipment